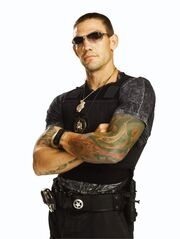 Leland Blaine
Chapman born December 14, 1976, in Groom, Texas and is a Hawaii-based bail bondsman and bounty hunter. Leland is a professional boxer, kickboxing, extreme fighter and mixed martial artist. Leland Chapman is one of the stars of the television show Dog the Bounty Hunter with his father, Duane "Dog" Chapman. Leland is Dog's third son, and he helped capture Max Factor's heir, Andrew Luster with Dog and Tim Chapman, Dog's "brother".
Ad blocker interference detected!
Wikia is a free-to-use site that makes money from advertising. We have a modified experience for viewers using ad blockers

Wikia is not accessible if you've made further modifications. Remove the custom ad blocker rule(s) and the page will load as expected.